Sometimes my jam is a flop. Either it does not set or I let it go too long and it turns into more of a "butter" than a jam. The silver lining is that there are delicious uses for these "flawed" jams. Or, if you simply have too much perfect jam on your hands, read on for creative ways to use it up.
Runny
Runny jam is just a fruit sauce that failed to live up to jammy expectations. Fortunately, fruit sauce is the perfect thing to:
Spoon into plain yogurt,
Flavor and sweeten a smoothie or milkshake,
Drizzle over pancakes or waffles,
Use as a sauce for decadent ice cream sundaes,
Create wonderful cocktails (see here for some guidance) or non-alcoholic spritzers, or
Throw some into a marinade for meat or fish - a great way to add flavor, sugar and acid all in one fell swoop. I especially like to use a little apricot, fig or cherry jam in marinades.
Overboiled
On the other side of the spectrum, you may have a jam that boiled too long and is more like a fruit butter than a jewel-like jam.
There are many uses for this type of jam, including:
Add a huge shot of fruit flavor to a layer cake,
Swirl some into your cobbler, cornbread or muffin batter,
Fill a cookie or pastry - think hamantaschen, thumbprint cookies, scones, or danish.
Fill a tart - either a traditional one or a DIY pop-tart.
But my favorite way to use up this type of jam is to make
fruit leather
with it. We made a huge batch of strawberry jam last June that just would not set (probably because we skipped the maceration step altogether due to child-related distraction) so we kept on boiling away and it turned into a dark, thick strawberry jam that none of us wanted to eat on our toast.
But last week, we realized we needed more space for this June's batch of strawberry jam (which turned out quite nicely) so we took all the jars out of the pantry and spread that dark, thick jam out on a couple of Silpats and put them in the food dehydrator. The result was
the most delicious
strawberry fruit leathers we've ever made!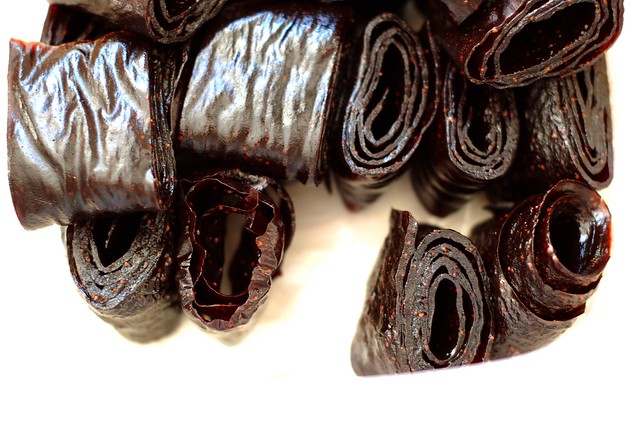 Got any ideas to share? Use the comments field to share your jam genius.
You might also like: