Have you ever eaten wood sorrel? If not, you need to try some - it's fresh and wonderfully lemony. I am in love with this composed salad of tender, red butter lettuce and fresh dill from our garden, sweet Yukon Gold potato, hard boiled egg, shaved Parmesan and lemony wood sorrel dressed with a classic shallot vinaigrette. IT IS SO GOOD!
I remember munching on the leaves of wood sorrel on the playground in elementary school, a tradition that is apparently still very much alive today. My six-year-old son is the one who reminded me about it when he started picking it in our backyard and telling me how they all like to eat it at recess. He and his friends call it lemon clover and I've also heard it called sourgrass. They're both perfect names although wood sorrel sounds a bit more sophisticated.
This wild edible is a member of the Oxalis family (Oxalis means "sour") and is high in oxalic acid as are a number of other greens including spinach, chard, broccoli and rhubarb. Oxalic acid is considered toxic when consumed in large quantities because it inhibits the absorption of calcium and should be avoided by people suffering from kidney stones, arthritis and gout (yes, people still get gout!)
However, just as with spinach and broccoli, wood sorrel is quite good for you when eaten in moderation so do not deprive yourself of its fresh, lemony flavor unless you have one of the above conditions. In fact, the
scientific consensus
is that "Sheer toxicity--actual poisoning--from ingested oxalic acid is wildly unlikely." Packed with vitamin C, wood sorrel's tender leaves and flowers add delightful flavor to salads or pestos.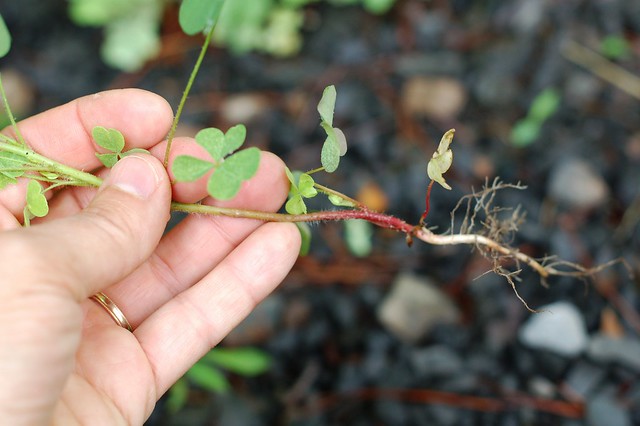 The variety near me has delicate stems that are covered with tiny hairs if you look really closely. Trios of folded heart-shaped leaves and small yellow flowers complete its elegant look. Some varieties have white flowers and others have no flowers at all. Stems can be green or reddish.
There are no poisonous look alikes to worry about
- the only thing that might trick you is clover which is also edible if rather more boring in taste.
Once you recognize it, you will start to see wood sorrel constantly as it grows pretty much everywhere. So next time you pull it out of your garden or the edge of your paths, bring a bowl or bag to put it in then bring it in and give it a rinse in cold water.
I am not the only one who appreciates it. Check out my friend,
Jen's beautiful blog post
about it here. And you may want to check out
Wikipedia's Oxalis entry
if you're curious.
Try this salad and let me know if you love it as much as I do. Tip: I like to double the vinaigrette recipe and save the extra in one of these
working jars with a lid
- having the dressing on hand makes it easy to whip up a tasty salad quickly - like having money in the bank.
-- print recipe --
Wood Sorrel, Yukon Gold & Egg Salad with Herbs & Shallot Vinaigrette
Serves 2
Ingredients
* 2 medium Yukon Gold potatoes, scrubbed and baked (you can also steam or boil them if you prefer) then cubed
* 1 small head of butter lettuce, washed, dried and torn into bite-sized pieces
* Handful of fresh dill, rinsed and dried, stems removed, roughly torn
* 2 cups wood sorrel, washed and dried with any tougher stems removed
* 2 hardboiled eggs, peeled and sliced
* 1/4 cup shaved Parmesan cheese (optional)
For the vinaigrette
* 1/4 cup organic olive oil
* 1/4 cup white balsamic vinegar (you can also use red wine vinegar or lemon juice)
* 2 tsps honey or maple syrup
* 2 tsps Dijon mustard
* 1 small shallot, finely chopped
* 1 tsp sea salt
* Several grinds of black pepper
Directions
1. Make the vinaigrette - it's nice to give it a bit of time to sit and let the flavors develop so make it ahead of time if you remember. Mix all the ingredients together until it looks homogenized. Taste and adjust the flavors and seasonings as needed.
2. Compose the salad. Lay the lettuce leaves out on the plates, top with the cubed, warm potatoes, sliced eggs, fresh dill and wood sorrel then dress it all generously. Serve with crusty bread and butter.
You might also like:
For more delicious recipes, gardening ideas, foraging tips, and food-related inspiration
"like" the Garden of Eating on Facebook
, or follow me on
Twitter
and
Pinterest
.